Harry Potter And The Prisoner Of Azkaban

'

Name

Harry Potter And The Prisoner Of Azkaban

Written by

Cover Artist

Mary GrandPre(US)
Cliff Wright (UK)

Publisher

Bloomsbury (UK)
Scholastic (US)

Released

July 8, 1999

Pages

Preceded by

Followed by
"This was one of the most easist Harry Potter book to write."

Harry Potter and the Prisoner of Azkaban is the third book of the Harry Potter Series. It is Preceded by Harry Potter And The Chamber Of Secrets and followed by Harry Potter And The Goblet Of Fire. This book is written by J.K Rowling and was first published in 1999 by Bloomsberry.
For twelve long years, the dread fortress of Azkaban held a infamous prison called Sirius Black. Convited of killing 13 people with only one curse, he was said to be the heir apparent to the Dark Lord, Voldemort. Now he has escaped and what Harry doesn't know is that Black is coming after him. Harry Potter is not even safe in the walls of Hogwarts to holds two new teachers. First: Hogwart's own, Rubeus Hagrid taking Care Of Magical Creatures. Second: A new teacher with a huge secret, Remus J. Lupin taking the job which is said to be jinxed, DADA (Defance Against the Dark Arts).
---
Harry Potter is 13 year old and is now going to start his third year in Hogwarts. While still with his muggle Aunt and Uncle, he heards that a Prisoner named Sirius Black has escaped. He soon leaves his Aunt's house and gets picked up by the Knight Bus. The Knight Bus drops him off at the Leaky Cardron where he meets up with Herminoe and the Weasleys.
Owl Post
Aunt Marge's Big Mistake
The Knight Bus
The Leaky Cauldron
The Dementor
Talons and Tea Leaves
The Boggwart in the Wardrobe
Flight of the Fat Lady
Grim Defeat
The Marauder's map
The Firebolt
The Patronus
Gryffindor Versus Ravenclaw
Snape's Grudge
The Quidditch Final
Professer Trelawney's Prediction
Cat, Rat, and Dog
Moony, Wormtail, Padfoot, and Prongs
The Servant of Lord Voldemort
The Dementor's Kiss
Hermione's Secret
Owl Post Again
Flim Adaptation
Edit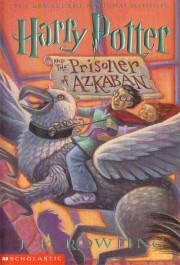 Harry Potter and the Prisoner of Azkaban was later made into a movie in 2004/2005. It stared Daniel Radcliffe as Harry Potter, Emma Watson as Hermione Granger , Rupert Grint as Ron Weasley, Gary Oldsmen as Sirius Black and David Thewlis as Remus Lupin. The movie soon became one of the
best
movies of 2005.
Also See...
Edit